If you need a quick list of the best SEO tools for WordPress users, or any user for that matter, feel free to click on the options we've provided in the list below.
If you'd rather go through the intensive research and really understand the features of each SEO tool, keep reading to learn about everything from keyword research features to SEO search volume rankings.
The Best WordPress SEO Tools 2022:
1. Ahrefs
Ahrefs is an SEO juggernaut and the closest thing you can get to cover every aspect of your SEO needs. The whole point is to give you insights into your competition and find backlinks and keywords that might work just as well for your own business. It's also great for locating keywords that competitors might not have taken advantage of yet. We utilize Ahrefs daily here at WCS. 😄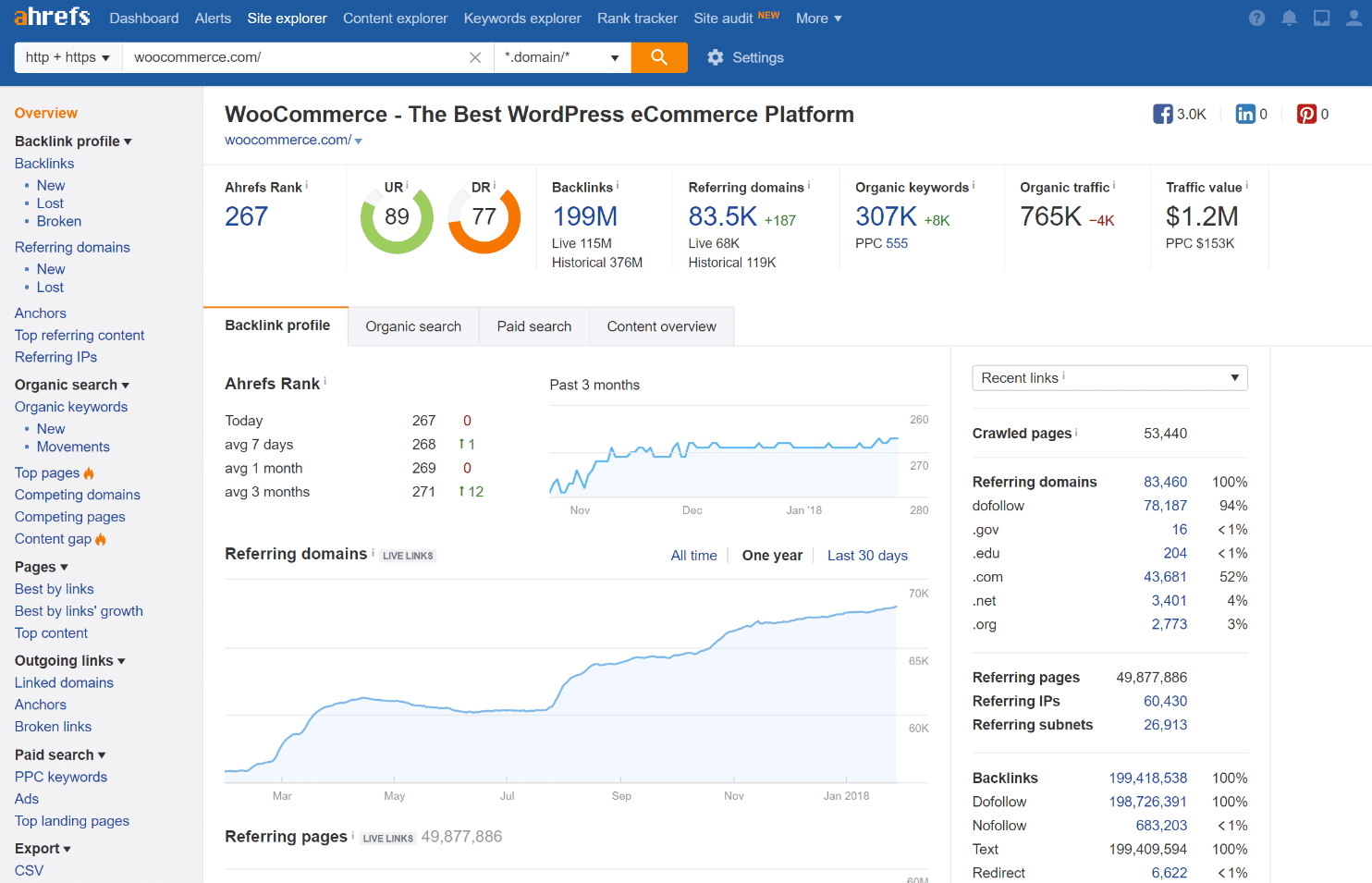 As you can see in the screenshot, the Ahrefs dashboard provides several tickers, charts, and graphs for checking things like referring domains, organic keywords, and paid keywords. Yes, it's a little pricey (starting at $99 per month for one user,) but an eCommerce store or blog could easily make that money back since it's considered one of the best SEO tools on the web. In fact, it helped us clean up a negative SEO attack on our site.
Ahrefs can actually work for other
not using WordPress since it provides a comprehensive site explorer and dashboard, separate from WordPress.
Why We Love This SEO Tool
Ahrefs is hands down the best keyword explorer on the market.
It has one of the largest backlink databases on the web, and we rely on its data for many things.
It provides a rank tracker to see how you stack up against comparable companies online.
Content ideas are much easier to come by since you can search for topics based on what you sell or talk about on your site.
You can find websites that link to your competition, then reach out to those same websites (or similar ones).
Ahrefs shows people who are interacting with your brand on social media.
You can configure several alerts to determine when a backlink is added or lost. It's also great for seeing new keywords and web mentions.


---
2. GrowthBar
GrowthBar allows you to get keyword results, check your competition's backlinks, Google Ads data, and generate blog content in one click. Bloggers and content creators will benefit the most from this tool. In fact, GrowthBar comes with a content generation feature that sets it apart from other SEO tools. Thanks to this, you'll be able to create content outlines featuring the correct keywords you'd like to target, intro paragraphs, etc.
GrowthBar's drag-and-drop content editor is unique and perfectly suited for WordPress users. GrowthBar is powered by a tool built using Open AI, which means — the most sophisticated language model ever made. That means the outcomes and recommendations will keep improving the more you use the tool.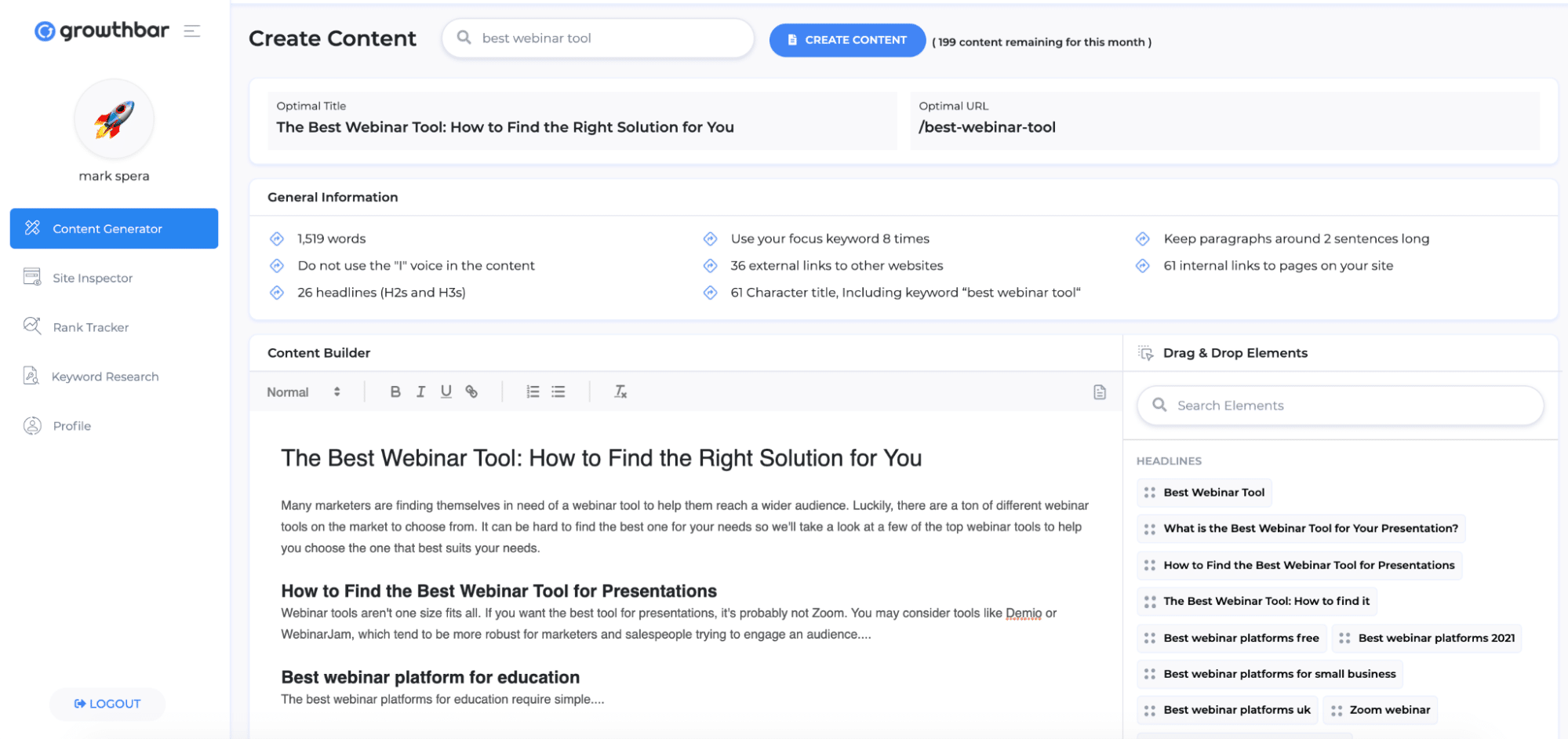 Thanks to a simple user interface and robust data sets, almost anyone can use it, regardless of their technical experience. Entrepreneurs, small businesses, and freelancers can all take advantage of this powerful SEO tool!
Why We Love This SEO Tool
GrowthBar's content generation can help you save time.
It allows you to export all your content outlines to Google Docs so that you or your team of writers can create content faster.
It features a big index of keywords and backlink suggestions.
It has a slick and easy-to-use UI.


---
3. Accuranker
Where Ahrefs excels at keyword research and backlink research, Accuranker takes charge with keyword tracking. In fact, the entire system is built on tracking your SEO rankings and the keywords that boost your SEO. The pricing is a little better than that of Ahrefs, but you should remember that it's not the same type of SEO tool. We utilize Accuranker here at WCS to monitor our content marketing in SERPs.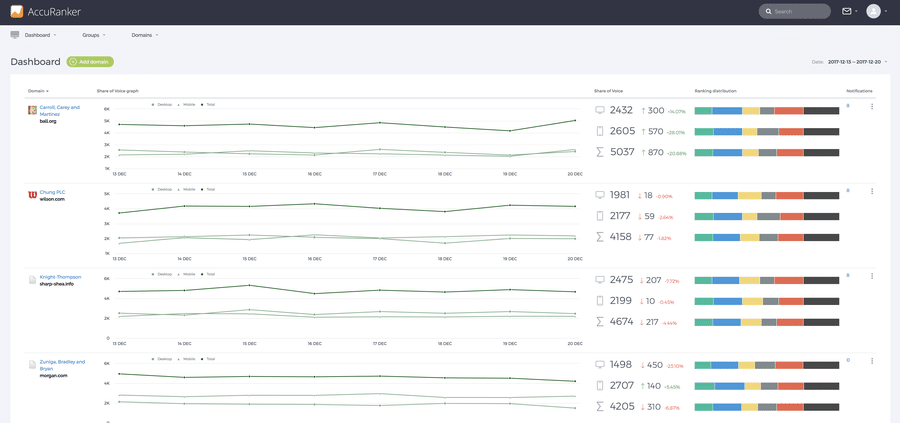 Accuranker starts at $44.95 per month, allowing you to track up to 600 keywords. You can also use the tool on unlimited domains and check in on one competitor. As you upgrade to other plans, these numbers get bigger with agency and enterprise packages available.
Both Bing and Google are tracked with Accuranker, as it delivers precise daily results based on keywords or other metrics.
Why We Love This SEO Tool
The keyword tracking is done daily. But you can also manually refresh your keyword rankings at any time. This is one of the best features! Most keyword tracking tools limit the ability to do this.
You can track by city, state, and zip code for the local businesses out there.
You can jump back in history to see how you have reached your goals and how certain keywords have performed over the years.
The keyword tracking is strengthened by additional analytics data for each keyword, such as traffic potential, traffic per keyword, and search volume.
The SEO tool provides an automated reporting area where you can drag and drop items on a report template for the future. That way, when you need to download a specific report, it's always there for you.
You get rankings for mobile, desktop, and local keywords and searches.


---
4. SEMRush
SEMRush has a rather simple interface for those getting started with their SEO and don't want to feel too intimidated. The pricing is still high (starting at $99.95 per month), but you receive a few domain overview metrics for free. That said, you need to sign up for an account first, and the upsells start coming fast.
Overall, SEMRush focuses on SEO, paid traffic, social media, and content. The technical SEO audit is where you find most of the information. The position tracking works similar to Accuranker, and the competitive intelligence is easy to understand.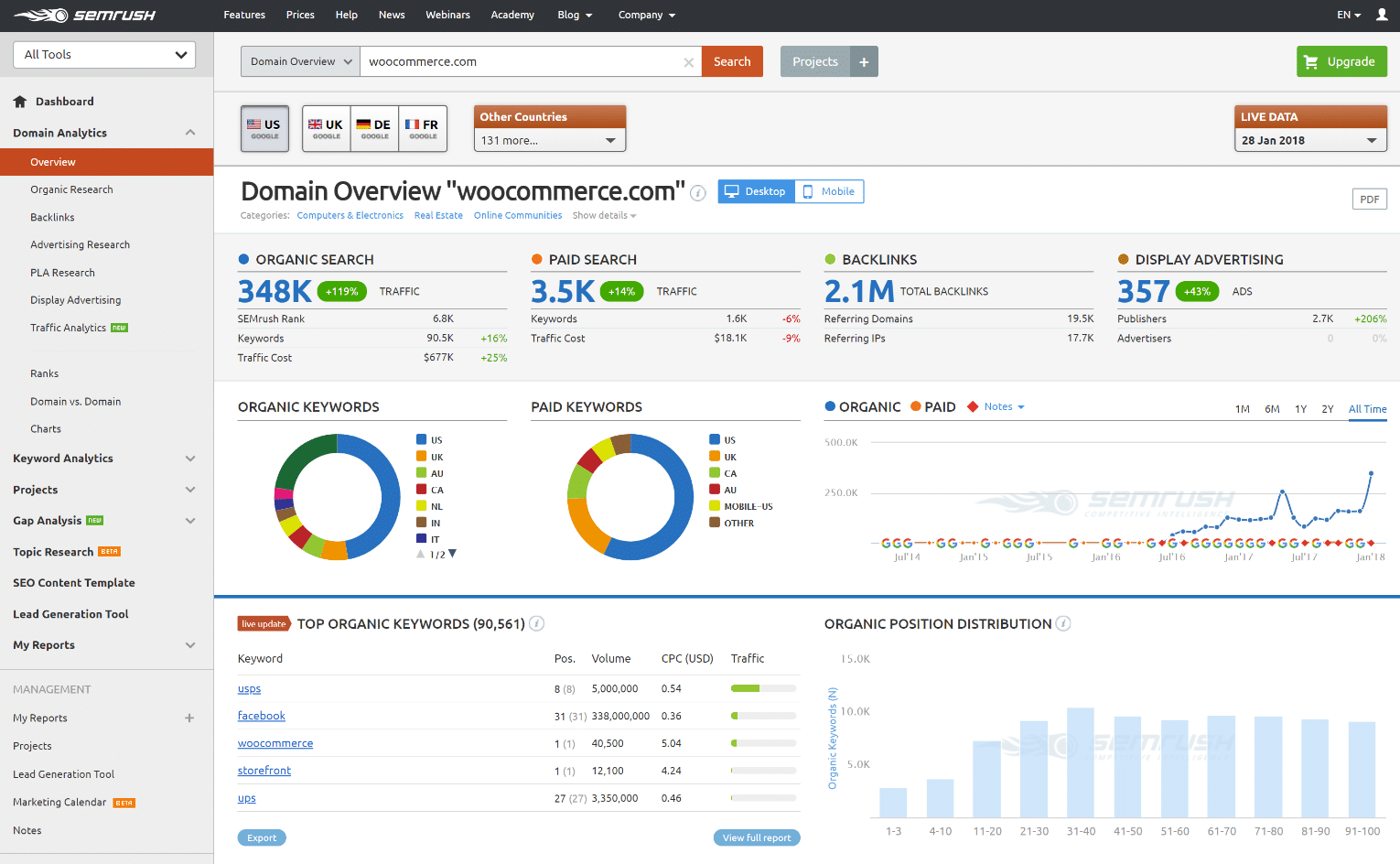 One of the main reasons you would go with SEMRush is the analytic section. It does an awesome job of comparing paid traffic vs organic traffic. We also enjoy the ad strategy analysis, since this is bound to push more people to your website once you start learning how to post Google Ads more strategically.
Why We Love This SEO Tool
The interface is simple enough for an average user to understand.
SEMRush covers most SEO tools you would need for a small to mid-sized business. The competitor analysis is rather strong, and the keyword research uses your own website and the competition.
It's a great program if you're running reports and analytics for multiple clients. The professional-looking reports are some of the best in the business, and you can send them to other people regardless of location.
Check out these six different ways you can use SEMRush to dominate SERPs.
Need a hosting solution that gives you a competitive edge? WCS's got you covered with incredible speed, state-of-the-art security, and auto-scaling. Check out our plans
---
5. KWFinder
KWFinder offers more affordable pricing for those on a budget. The pricing starts at $29.08 per month. That includes support for keyword research, SERP analysis, rank tracking, and backlink analysis. The highest price point is $79.08 per month, increasing the number of lookups and keyword trackings. You also have the option to sign up for a free account, but you're limited to five lookups per 24 hours. This might be okay for a small blog, but not much else.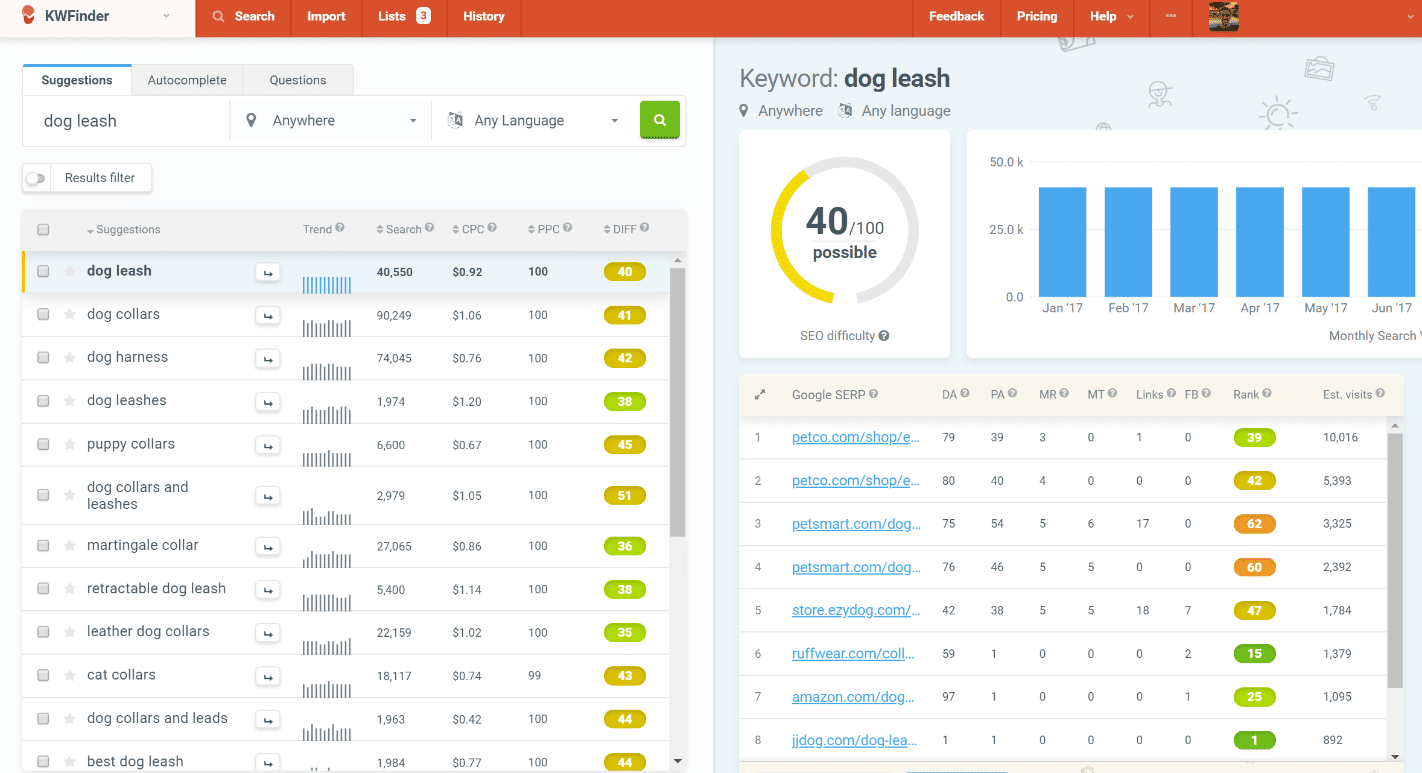 The KWFinder user interface is colorful and intuitive, with rankings displayed clearly for beginners to understand. The primary features suggest keywords for your website and also compare those keywords to what other competitors are doing.
Why We Love This SEO Tool
You can't find a cleaner user interface.
The search volumes seem to be more accurate than other keyword planning and searching tools on the market.
The pricing is hard to beat, and you have the option to play around with a free plan.
The keyword difficulty score not only makes more logical sense than the competition, but it's perfect for those who aren't going to be analyzing hundreds of keywords per day.


---
6. Google Keyword Planner
If you have no intention of spending money on a keyword research tool, but would like some power behind your SEO planning, check out the Google Keyword Planner. This is what many online marketers use when they're looking to sift through the best keywords to pay for. Google Keyword Planner has a hyper-local search volume tool, which makes it essential for those running small, local businesses. You can also target people based on their demographics, so eCommerce companies should have this in their arsenal.
The main problem is that it relies on averages instead of hard trends. However, you can pair this with Google Trends to find the right keywords and then test how they perform. However, if you need more accurate data, we recommend going with a premium tool.
Why We Love This SEO Tool
Companies looking to rank for local businesses and products should have fun with the geographic tools.
It's one of the best SEO plugins for WordPress since you don't have to integrate anything, and it's easy to cross-reference the data with other tools.
Google Keyword Planner is from the folks at Google, so you're utilizing a system that's directly involved with the most prevalent search engine.
You don't have to pay a dime to use the Google Keyword Planner.
If you plan on posting Google Ads with your keywords, the Google Keyword Planner lets you upload a list of keywords to get forecasts for your campaigns.


---
7. Moz Open Site Explorer and Pro
Moz is most famous for its use of the domain authority metric. Since Google has stopped updating PageRank, many SEOs utilize other metrics such as domain authority from Moz and domain rating from Ahrefs to quickly judge how powerful a site might be as it pertains to SEO.
Moz Open Site Explorer is free for the most part but is limited by the amount of data you can see without upgrading. For example, searching your own website brings up a list and analysis of inbound links, top pages, linking domains, and more. You can run a spam analysis to protect your site and look at link opportunities based on what you and your competitors do. Moz also has an area for anchor text, where you learn which keywords the site might be ranking for.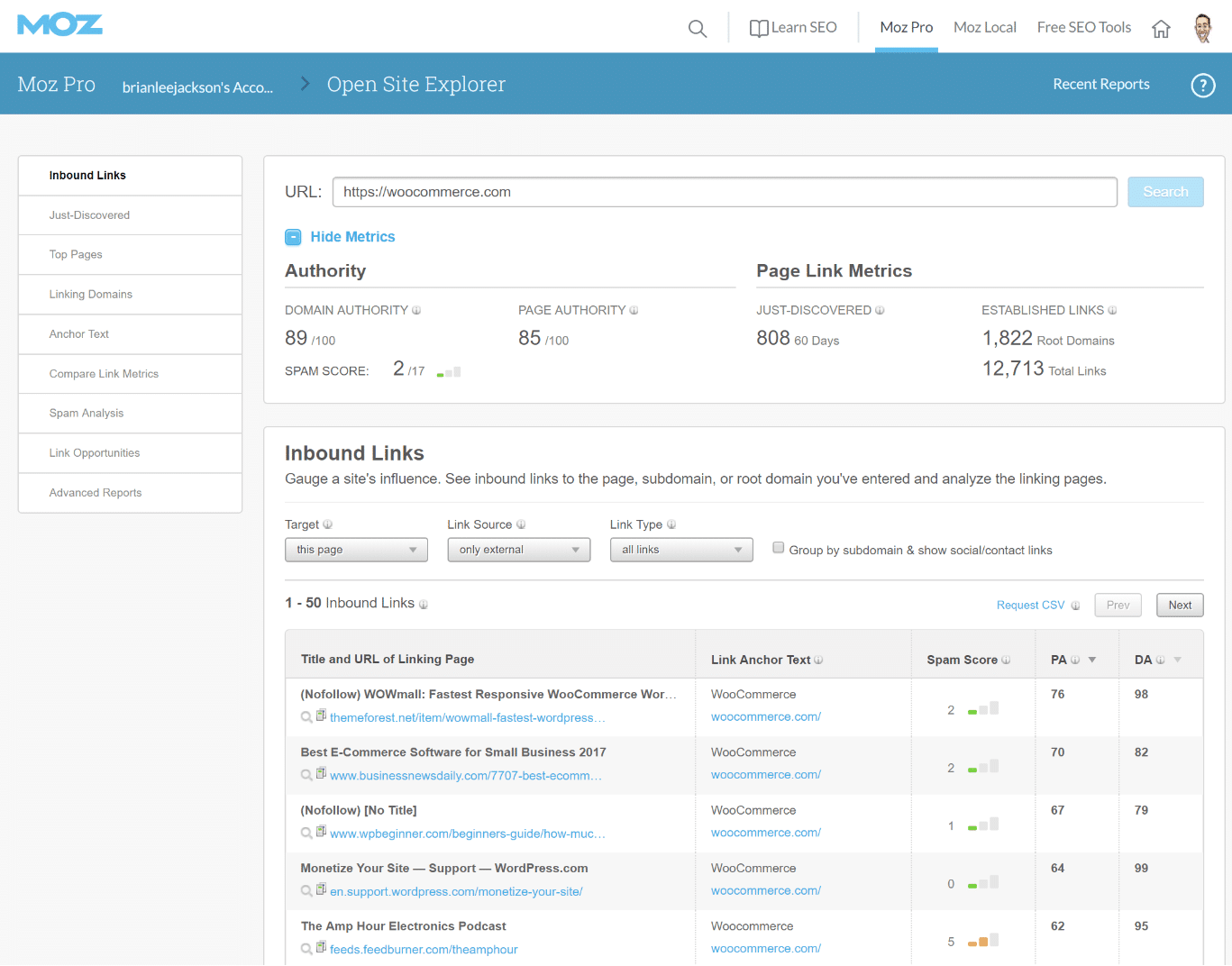 If you want additional data and tools, you can upgrade to Moz Pro, starting at $149 per month. That's obviously on the expensive side, but the suite is quite impressive and great for beginners that are just starting with SEO. They have similar tools in the premium version, such as their keyword explorer tool.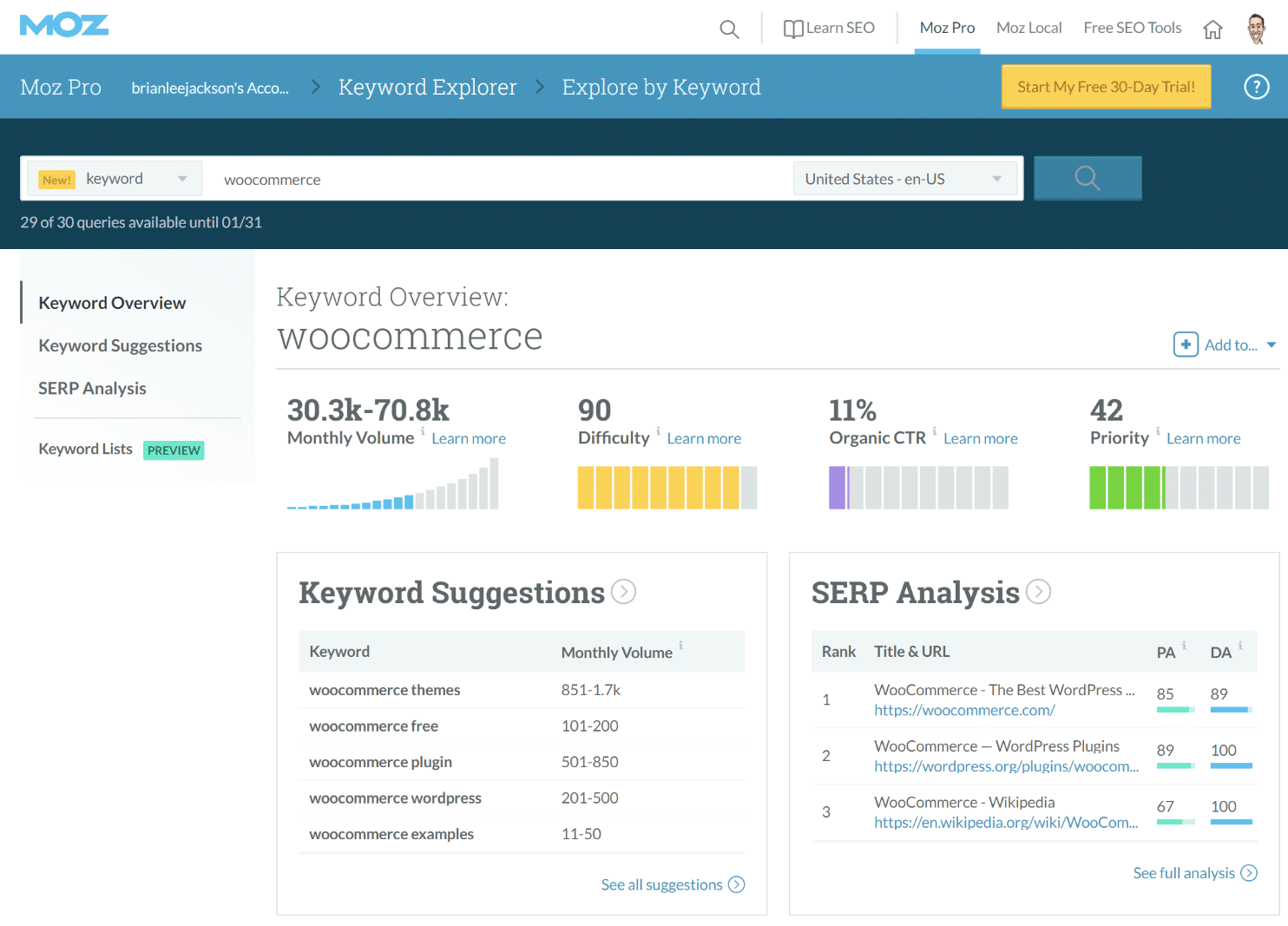 You could definitely argue that Moz has the most important features you would expect out of an SEO tool. From domain analysis to offsite SEO, and competitor analysis to keyword tracking, it's hard to find anything wrong with it.
Why We Love This SEO Tool
Moz Local is also an option if you own a locally-based business.
The free Moz tool offers a wide range of SEO tools.
You can also utilize their free MozBar extension to quickly see domain authority in your toolbar when browsing a site.
Although many argue that the interface is clunky, it excels at providing a sophisticated look at competitor data and technical SEO analysis.


---
8. SEOquake
SEOquake takes a completely different approach to SEO in that the majority of the work is done through a Chrome extension. This way, you can navigate to a page and conduct an on-page SEO audit without any complicated dashboard. You can also check external and internal links while comparing URLs and domains, all in real-time.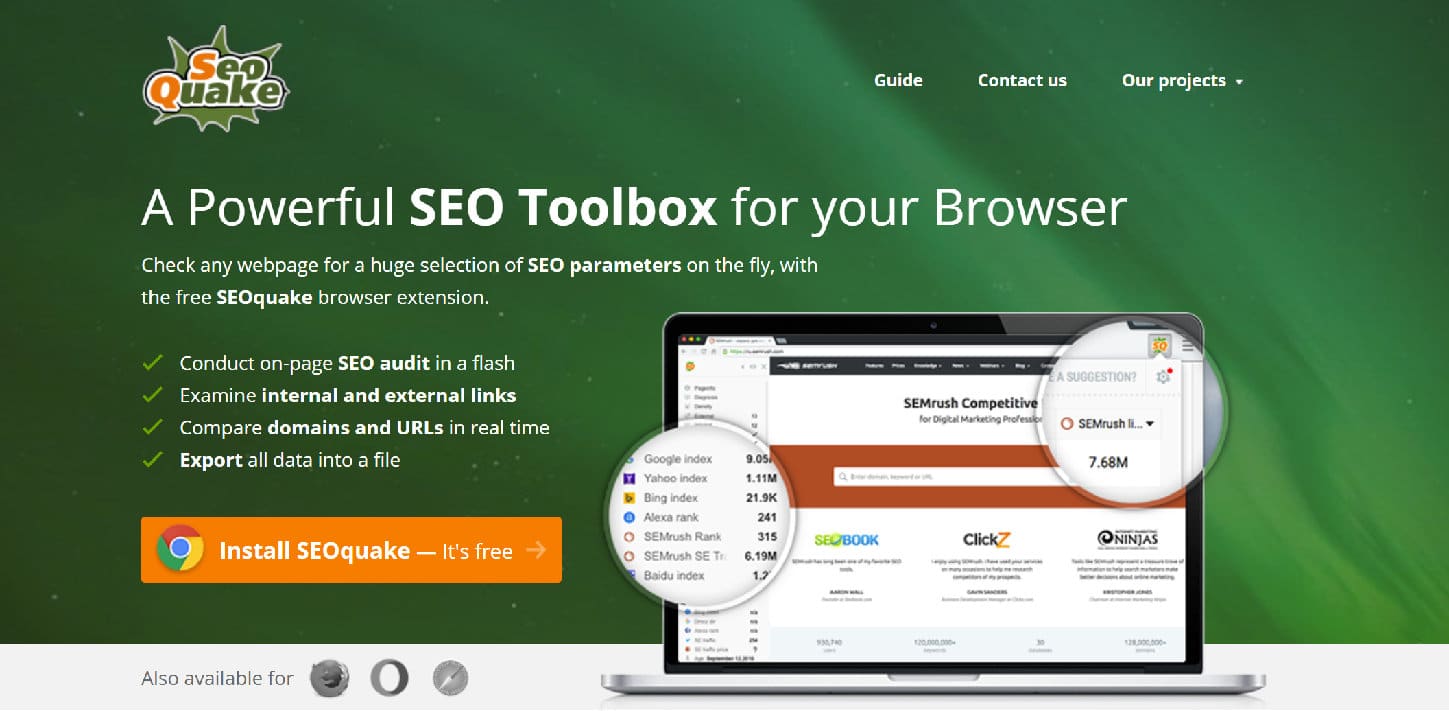 What's more, SEOquake exports all of this valuable data into a file for you to place into a different program or send off to coworkers. You might initially think that a simple Chrome extension isn't enough for your SEO needs, but the amount of information contained in the tiny SEO plugin is pretty impressive. For instance, you can see URLs, titles, servers, and meta descriptions. It's also nice to view the social activity and Alexa Pagerank.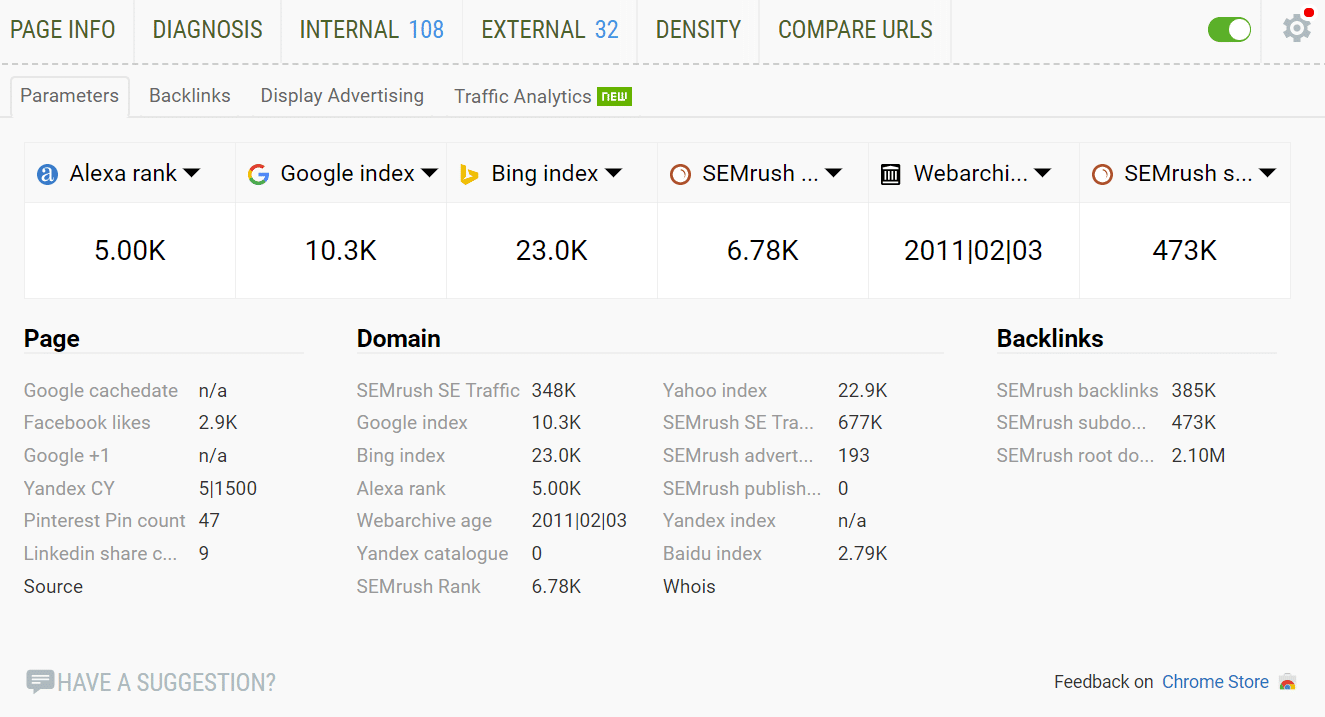 Why We Love This SEO Tool
The SEOquake tool comes as a simple Chrome extension and is completely free. However, you might want a SEMRush account if you want some additional data.
It's one of the easiest ways to grab quick SEO information without a clunky dashboard.
You also have the option to use SEOquake in Firefox.
Printing and exporting SEO data is available.


---
9. Copyscape
Unfortunately, we live in a day and age where if you produce high-quality content, there will always be someone out there trying to copy it for their own gain. This happens to us a lot here at WCS. In fact, at the time of writing this, we have 4 DMCA complaints and cases open. Not sure whether or not someone has copied your content? Well, that is where the Copyscape tool comes in.
Copyscape essentially scans the web and checks to see if similar pages are floating around. It bases everything on a percentage match, such as someone copying 80% of your content word for word, or 50% with partial matches, etc. While Google is pretty smart about duplicate content issues and ranking the original, you shouldn't let someone else take the credit for your hard work.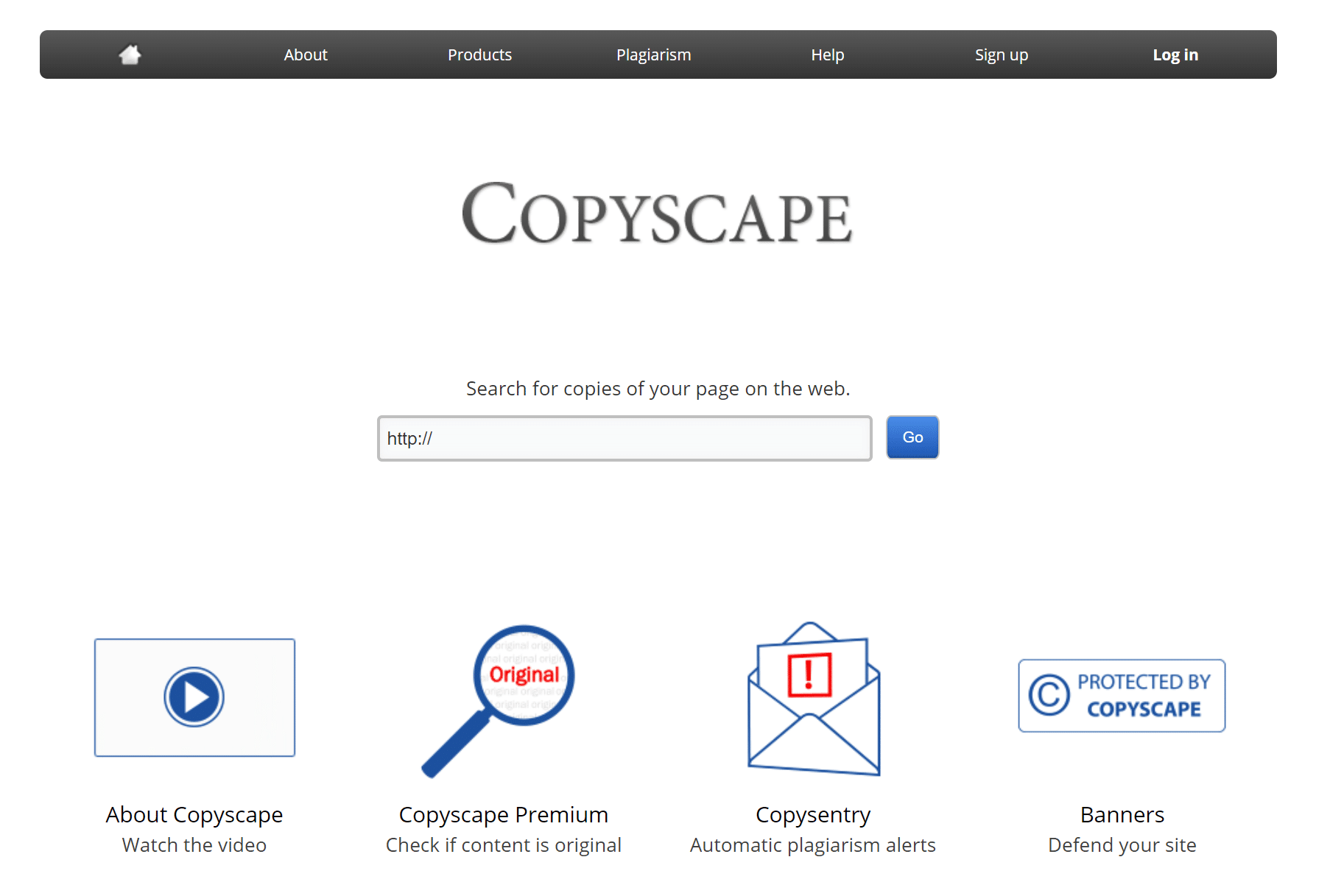 The free version works great for periodical checks, but you can also pay for the premium version and regularly monitor more of your sites.
Why We Love This SEO Tool
If you really want to protect your site, you can have Copyscape scan your sitemap file and automatically notify you if it finds copies of your content on the web.
Copyscape has been around since 2007 and is by far the best tool on the web when it comes to detecting online plagiarism.
Easy to use, even for beginners. Copy and paste your content or URL, and it will check it against the entire web in seconds.


---
10. Keywords Everywhere
There are a lot of tools that you can use to do keyword research. Services such as Google Keyword Planner or Ahrefs will return more information than you can imagine regarding keyword suggestions.
However, you might be looking for data about specific search terms. This is where Keywords Everywhere comes in.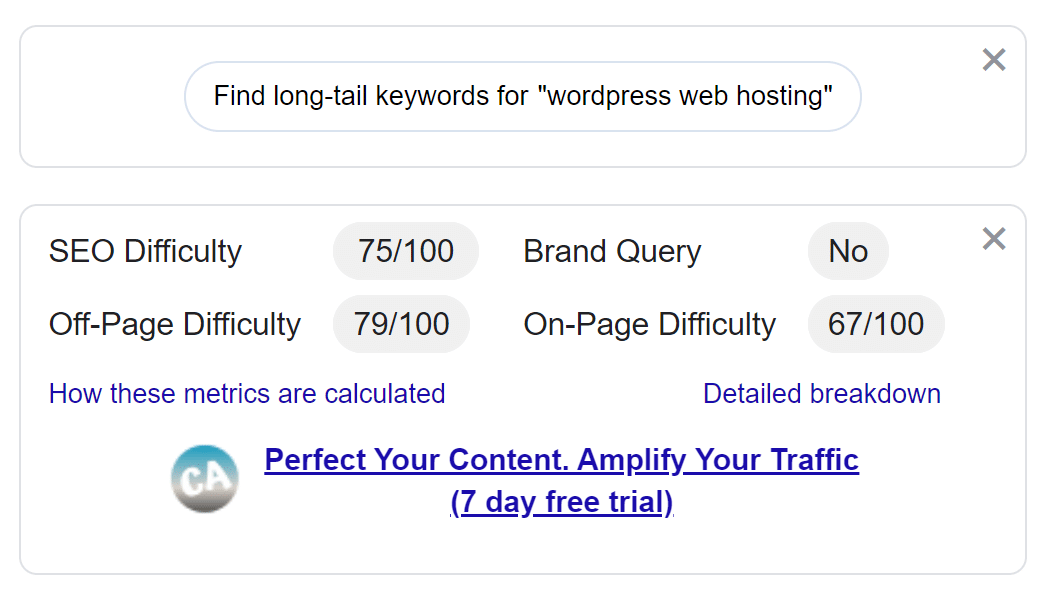 With this Chrome/Firefox extension, you'll get access to data for each search that you run in Google. On top of regular search results, you'll also see keyword difficulty, history search data, suggestions for related keywords, and more.
The free version works on both Google and Bing, and it gives you access to a wealth of data. If you choose to pay for the premium version, you'll get access to more in-depth data and support for additional platforms, including YouTube, Amazon, and more.
Why We Love This SEO Tool
Keywords Everywhere is straightforward to set up, so you can immediately access keyword data.
You get a lot of information for any search term you lookup using either Google or Bing.
You can use this tool to lookup keywords quickly you're interested in and gauge their difficulty, whereas using tools such as Keyword Planner can be more time-intensive.
Keywords Everywhere returns several related keyword suggestions for any search term you look up (assuming there's enough data available).


---
11. Similarweb
If you spend a lot of time looking at your competitors' websites, you'll love this Chrome extension. Similarweb enables you to look up SEO metrics for any website that you visit, including global rank, visitors over time, bounce rate, average visit duration, and much more.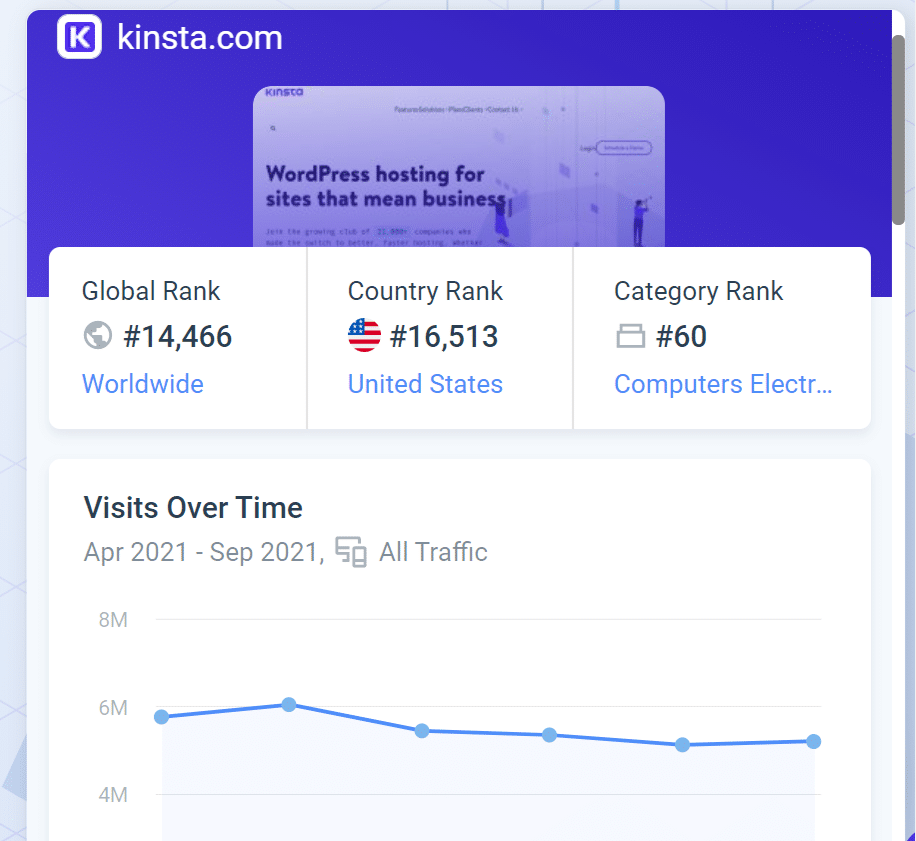 For a free extension, Similarweb gives you access to a massive array of data for any site you visit. To use it, all you have to do is click on the extension's icon while browsing a website, and it'll open a tab showing the information you're looking for.
Another upside of using Similarweb is that the extension gives you information about the top traffic sources for any site. You can use it to determine if a given page gets most of its traffic from search engines, direct hits, referrals, social media, email links, or display ads. At a glance, that information can tell you which traffic sources work best for your competitors and help you determine whether you need to rethink your strategy.
Why We Love This SEO Tool
Similarweb enables you to look up SEO information for any page quickly you're interested in.
You get access to data such as overall traffic, monthly visits, bounce rate, average time on site, and more.
The extension shows you what visitors are looking for.
You can look up traffic sources for any website.


---
12. BuzzSumo
BuzzSumo is a powerful tool for helping you discover keyword ideas, trending topics, and what questions users are asking on the web. The platform also includes a suite of social media tools that enables you to identify the top influencers for any given topic and get their contact information.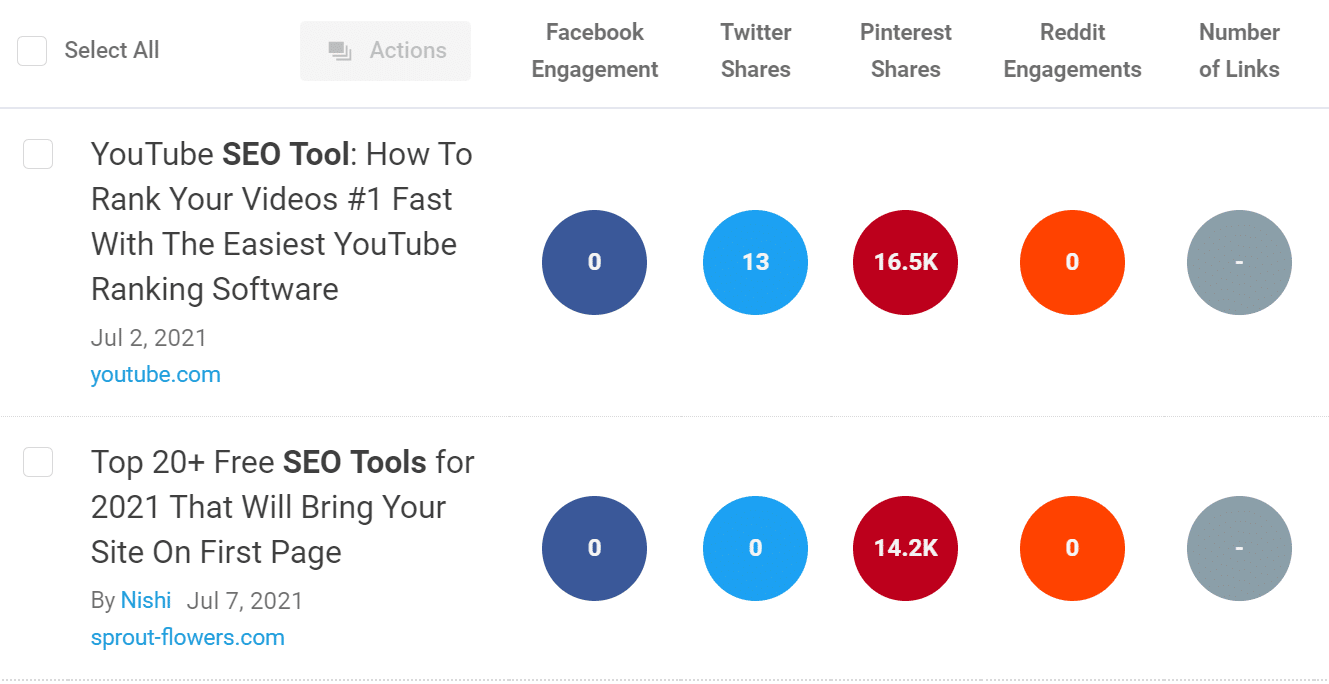 With BuzzSumo, you can identify which content gets the most engagement and on which platforms. When you put that information together with keyword and traffic data from other sources, you get a comprehensive overview of what makes content users are willing to share.
BuzzSumo can also show how many websites link back to specific posts and pages. If you're looking to increase backlinks to your website, analyzing pages that get a lot of links can help you learn what your content is missing.
Why We Love This SEO Tool
BuzzSumo is a fantastic tool for determining which content performs best on different social media platforms.
You can use BuzzSumo to identify the top influencers in your niche and contact them.
This tool helps you identify trending topics, keywords, and questions in your niche.


---
13. Keyword Insights
Finding potential keywords is relatively simple. However, figuring out which keywords are viable choices is another matter entirely. Some keywords might be too competitive, while others might not have enough volume. Moreover, not every keyword could work well for your targeted region.
Keyword Insights can take those lists of keywords and tell you which search terms you can target on the same page. It will also suggest which options you're better off targeting with unique content.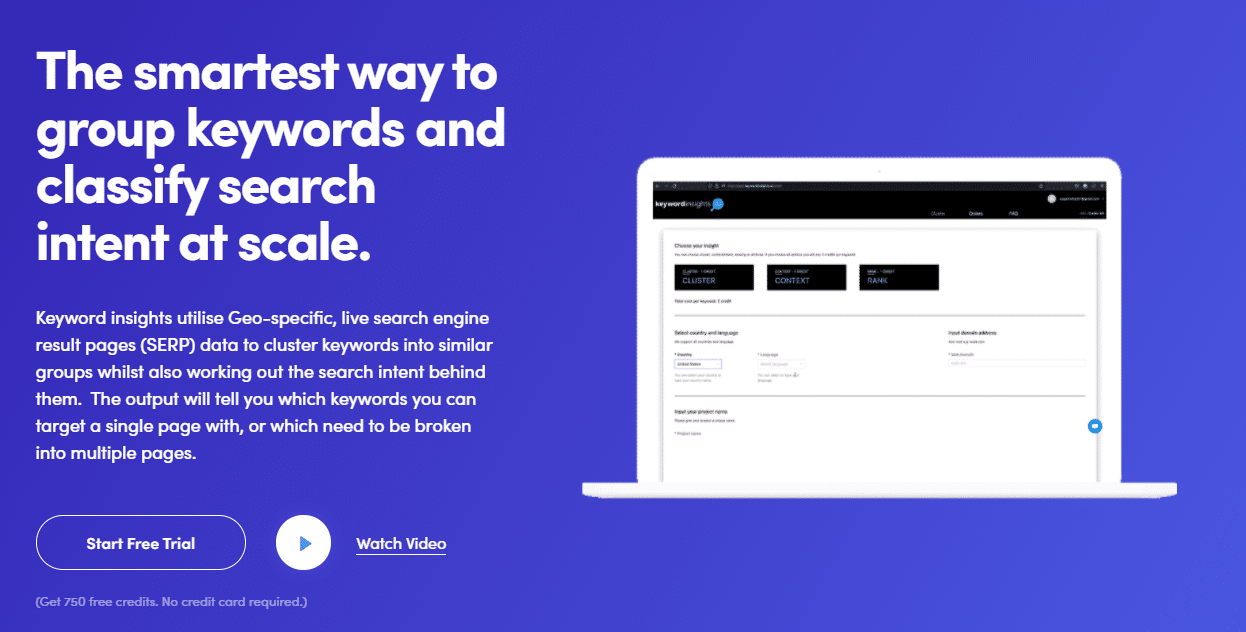 In a nutshell, this tool can help you organize keywords into clusters. That way, you'll maximize the potential traffic for each page without cannibalizing traffic by grouping search terms that have better potential on their own.
Keyword Insights can also suggest what content you should focus on for each keyword. It generates that data by analyzing the intent for each search term to identify why users are looking for those specific keywords.
Why We Love This SEO Tool
You can feed Keyword Insights lists of keywords, and it'll tell you how and where to use them.
You have the option to divide long lists of keywords into clusters.
You can analyze search intent for each keyword and get suggestions on what content to generate around it.


---
14. Ubersuggest
There are plenty of great free keyword finder tools, but Ubersuggest is definitely near the top of the pack. Although it doesn't provide you with as much sheer data as Google Keyword Planner, this tool organizes the information it shows in a much more user-friendly way.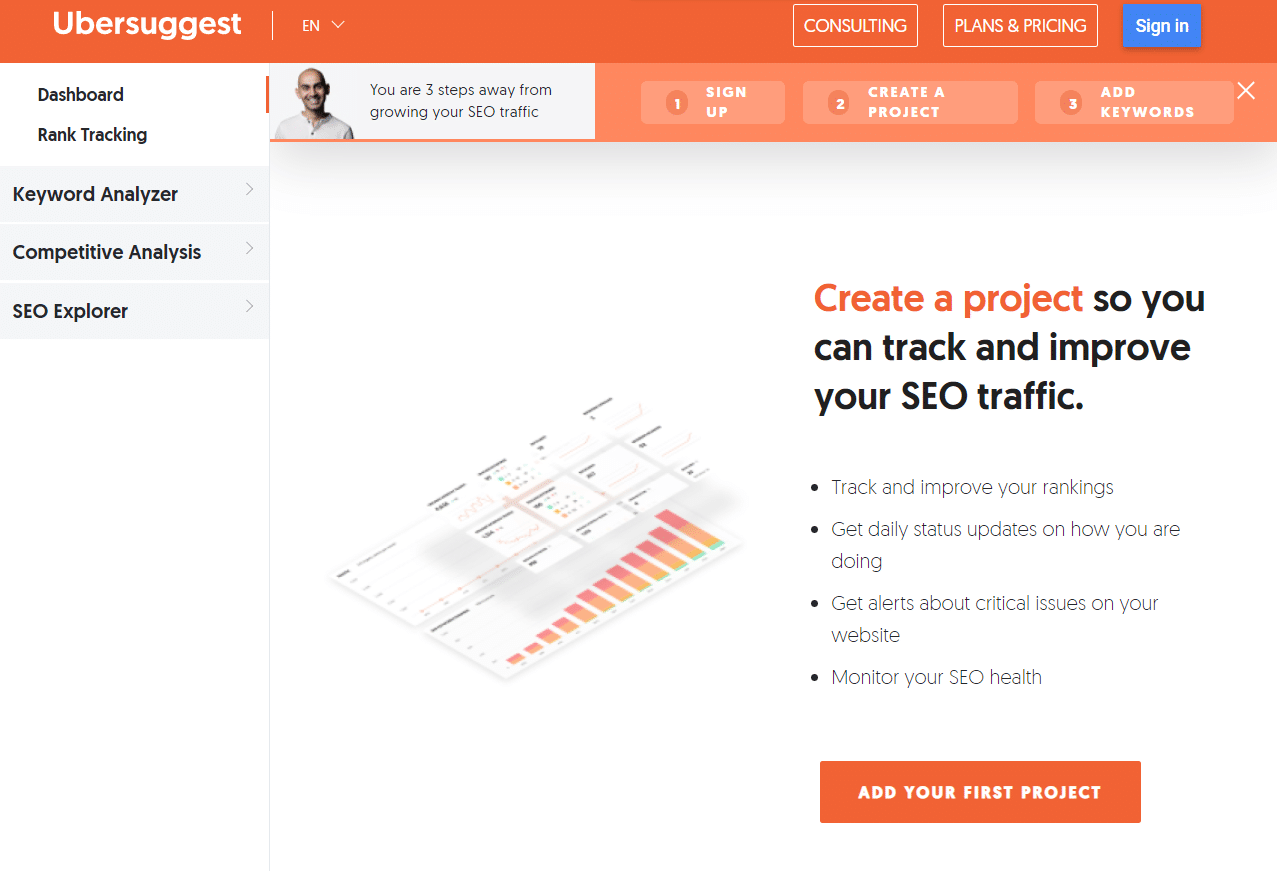 With Ubersuggest, you can analyze keywords to determine their popularity, level of competition, and find related search terms. The tool will also show you some of the best-ranking content for each keyword, including estimated traffic, the number of backlinks, and social shares.
On top of keyword data, Ubersuggest can help you analyze specific domains to find out how well they're performing. You'll get access to detailed information, including traffic, keyword rankings, top pages, and more.
Why We Love This SEO Tool
If you're scared of keyword research tools due to their complexity, Ubersuggest packages all that information in a more user-friendly way.
You can use this tool to research potential keywords, find the best performing content for them, and receive related search term suggestions.
Ubersuggest enables you to analyze your competitor's top-performing content.


---
15. SpyFu
There are many ways to look into your competitor's websites and figure out how well they're doing from an SEO standpoint. However, most SEO tools include competitor analysis as an afterthought. SpyFu, on the other hand, is all about peeking into your competitor's living rooms and seeing what they're doing.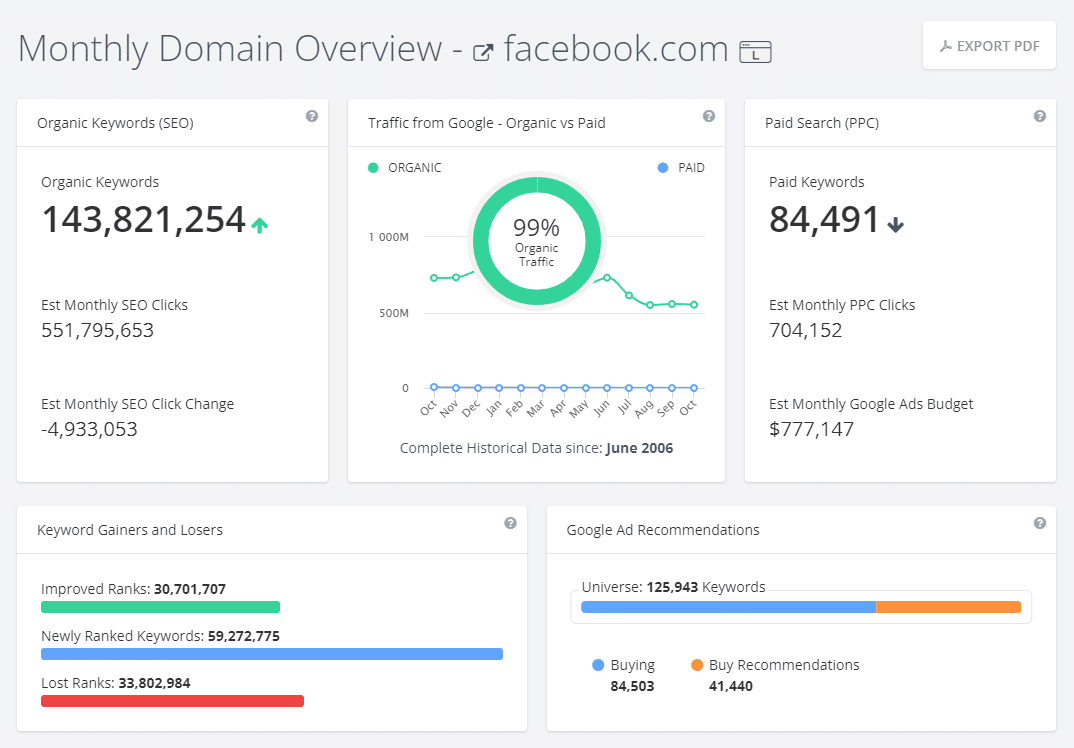 This tool enables you to enter any URL, and it'll return an in-depth SEO overview for it. You can check out how much traffic a site is getting, whether organic or paid, if it has climbed up or slipped down the rankings recently, and much more.
With Spyfu, you can see what keywords your competitors share among each other, and what their top search terms and pages are. The tool even shows organic ranking history charts with specifications covering search algorithm updates. That'll enable you to see how those changes affected their organic traffic. The best part is that all that information comes in a single-page report, so it's easy to digest.
Why We Love This SEO Tool
Researching competitors can be very time-consuming, but SpyFu makes it easy by laying out all of the essential SEO metrics you need to know in a single-page report.
You can see how much traffic your competitors are getting and whether organic or paid.
SpyFu enables you to look at any competitor's top keywords and pages.
Thanks to historical traffic and rankings charts, you can see how specific search algorithm updates affected your competitors.


---
Summary
SEO seems tedious and complicated when you don't have the right tools on your side. However, when you find the best WordPress plugins for SEO and spend some time learning how to use them, tasks like keyword planning, competitor analysis, and reporting will become a breeze.
This list covers quite a bit, but some companies have different SEO needs. So, here are our final recommendations based on our research of the best SEO plugins and tools for WordPress:
We utilize Yoast SEO, Ahrefs, and Accuranker daily here at WCS. If you have any questions on finding the best WordPress SEO plugins or tools, feel free to drop a comment in the section below!