Finding a great host for your WordPress site is sure to speed it up and boost your SEO rankings. However, there's much more that goes into it, including which keywords you target for product pages and blog posts, how large your image files are, and whether or not your content is readable. Several Best WordPress SEO Plugins 2022 make this task a breeze.
In addition, you can find some third-party SEO tools for bringing up powerful stats, keyword rankings, and backlink information.
SEO is confusing, even for experienced website owners. Finding posts and pages with high potential, fixing broken links, reorganizing site structure, or conducting a complete SEO audit is not easy for most website owners. But when you're equipped with the right tools and the knowledge needed to implement those tools, you'll be well on your way to search engine success.  Let's start!
---
What Do SEO Plugins Do?
SEO encompasses a broad field of study. It can cover keyword research, content optimization, adding links, and much more. Generally speaking, any plugin that helps you optimize your pages so they can rank higher on search engines falls under this umbrella.
Some SEO plugins, such as Yoast SEO (which we use at WCS), go above and beyond when it comes to helping you improve your content for search engines. For instance, they help you avoid overusing the exact keywords and tips for improving your content's readability.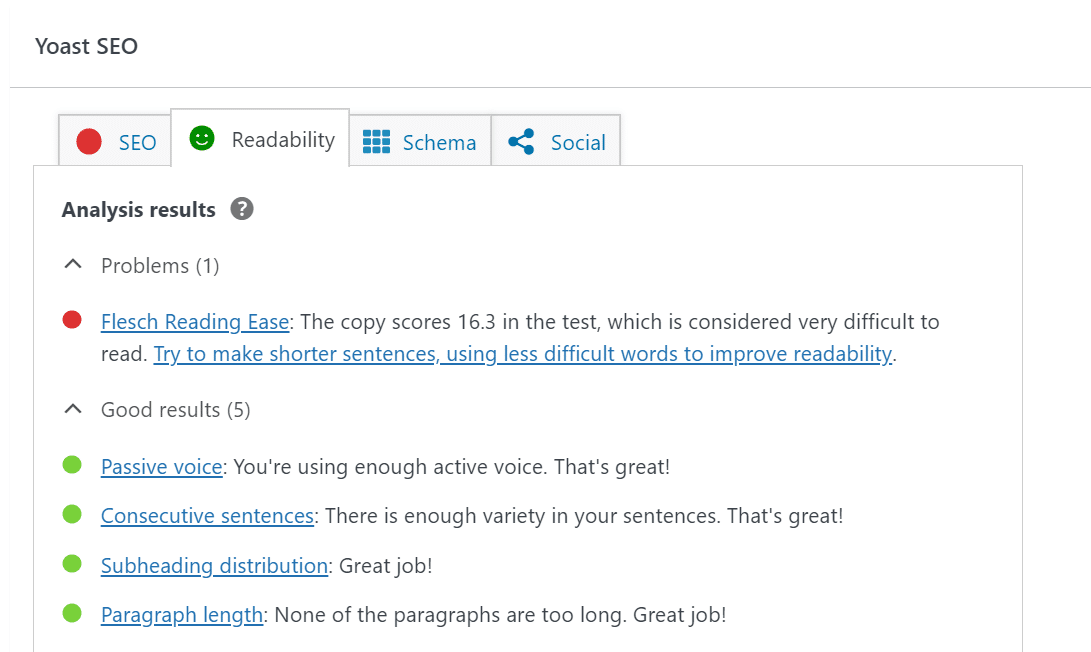 It's important to understand that SEO WordPress plugins don't necessarily mean your content will rank higher on search engines. However, if you're unsure how to optimize content for search engines, these tools provide a great starting point.
Using WordPress SEO plugins can help you gain a deeper insight into your audience and traffic sources. You can then use this valuable information to improve your content strategy and boost engagement.
---
Does WordPress Need SEO Plugins?
You don't need to use WordPress SEO plugins to optimize your posts and pages. If you're familiar with SEO fundamentals and you keep up with the latest changes in algorithms, you can achieve fantastic results without using plugins.
In most cases, SEO plugins provide you with guidance on how to improve your content, so it's more search-engine friendly. However, the actual optimization work still falls on your hands.
Out of the box, WordPress already includes all of the tools and features that you need to create SEO-friendly content. The Content Management System (CMS) enables you to add titles, meta descriptions, headings, alt text, tags, customize URLs, and much more.
Those small tasks (among many others) add to what we call SEO. If you don't need a plugin to help remind you of basic SEO tasks, then all the more power to you.
However, even if you decide not to use SEO plugins, there are still a lot of unique tools that you can use for keyword research and competitor analysis. These can also help you figure out why your pages are slipping in the ranks and enable you to identify areas of improvement.
---
The Best WordPress SEO Plugins 2022:
To start the list, we'll talk about SEO plugins for WordPress. These are often easier to understand and install, and you can choose from a wide range of plugins with different features. The best plugins show you SEO projections and recommendations on your page and post editors, while others are limited in their feature sets. Still, they have unique assets like checking broken links or minimizing the file sizes of images.
The quick list of recommendations is shown above, but we highly recommend scrolling through the more thorough reviews we've completed on the best SEO WordPress plugin options below.
---
1. Yoast SEO
Yoast SEO reigns supreme as the king WordPress SEO plugin. It is what we use here on the WCS blog. With an astounding 16,700 5-star ratings at the time of this article, Yoast continues to wow the WordPress world with impressive updates, a beautiful interface, and the most user-friendly option for making your blog posts and product pages stand out.
What's more is that Yoast SEO has its own website with premium support options, a thriving community in the forum section, an informative blog to learn more about SEO, and SEO courses for beginners, intermediates, and advanced users alike.
You can also gain access to Yoast SEO premium from that website, which offers more advanced features like keyword optimization for five keywords on a page, previewing what your page will look like on Twitter and Facebook, and internal link suggestions for sending users to other locations on your website. Keep in mind that that's a small portion of the premium features provided.
The premium plugin sells for $89 per site, making it a desirable deal for anyone. However, those on a budget still receive the free plugin, which beats out most other SEO WordPress plugins by a long shot.
Features That Make Yoast SEO a Great Choice:
Type in keywords and analyze how well you have optimized for those keywords on pages and posts.
See exactly what your Google search engine result is going to look like. With this, you can adjust the meta description and title to make it more appealing and keyword-rich.
A readability check is completed on all pages to understand if you need to break up paragraphs or add elements like numbered lists or headers.
The plugin detects if you have duplicate content in your page or post.
Yoast has some of the best resources and support we have ever seen from a plugin developer.
They also update the plugin every two weeks.
The premium plugin provides a redirect manager, free support, content insights, and an ad-free interface on the backend.
---
2. The SEO Framework
The SEO Framework plugin does the trick for those who want a fast, lightweight SEO plugin for WordPress without any ads or upsells. It strips some of the bells and whistles you probably don't need and focuses on helping those who are more concerned about keeping site speeds high while also spending less time with confusing SEO articles. It's often considered the greatest alternative to Yoast. That has much to do with the visual nature of the SEO ratings and more flexible options for targeting keywords (like with slightly off words or synonyms).

The post SEO settings are controlled with a few tabs, one of which uses a colored scale to show exactly how close you are to making your post search engine-ready. With the scale, you can instantly tell where you need to put in some work for your SEO, unlike some of the more cluttered versions of Yoast.
As you may have already assumed, the interface is perfect for beginners. The API is also open for advanced users to get their hands dirty. The plugin began as a project within the WPMUDEV community, but it was eventually released to the masses for free. The SEO Framework plugin is all-inclusive, and it offers more advanced functionality with the help of extensions.
Some of them include:
Local SEO
An AMP integration
Article enhancement
Monitoring for SEO and uptime
Incognito mode
Redirects
Comment caching for spammers
Features That Make The SEO Framework a Great Choice:
The SEO framework doesn't sell anything to you. It matches most of the needed features you find in Yoast, but you're not required to pay for extensions or premium features.
The visual, colored meter/scale provides a more user-friendly way to check whether your post will perform well on Google.
It has a local SEO extension for companies that need to set up and display important local business information.
The comment spam extension removes the need for an additional plugin.
Most of the SEO settings are preconfigured so that there's little to set up after installing the plugin.
While other plugins utilize a focus keyword, The SEO Framework focuses on the focus subject to encourage more natural writing because Google sees synonyms in SERPs as the same thing.
---
3. SEOPress
SEOPress is a freemium SEO plugin for WordPress with no ads. It's completely white-labeled with no footprints, even in the free version. It's simple, fast, and powerful, letting you manage all of your titles and meta descriptions for posts/pages/post types/terms.

Create XML and HTML sitemaps, track your visitors with Google Analytics (with RGPD compatibility), and optimize tags (Open Graph and Twitter Cards) for sharing your content on social networks. The free version also provides content analysis to help web admins write better posts. Developers can use more than 75 hooks to set up the plugin as they wish.
The premium version extends its functionality and adds advanced features like:
Local business SEO.
Breadcrumbs optimized for SEO and accessibility.
WooCommerce and Easy Digital Downloads optimizations.
Video and Google News XML sitemaps.
Google Structured Data Types (schemas.org): product, article, event, local business, recipe, review, FAQ, course, and video.
Backlinks from integration with Majestic (third-party API).
Google Page Speed v5 integration to quickly check the quality of your pages.
Redirections and 404 monitoring.
Google Analytics stats in your WordPress dashboard.
Features That Make SEOPress a Great Choice:
No ads, and your editors will see a meta box with no reference to SEOPress. Same thing in the admin bar.
It lets you add Google Analytics tracking to your site in seconds. You can exclude user roles from tracking, set up custom dimensions, enable remarketing, demographics, and interest reporting, track PDF, DOCX, XLSX, downloads, IP Anonymization, cross-domain tracking, and more.
Quick and easy Twitter meta tags and Facebook open graph data.
---
4. Rank Math
Rank Math SEO is the swiss army knife of SEO tools for your WordPress website. It comes with everything you need to take full control of your on-page SEO. Rank Math combines the power of multiple plugins you might be using on your WordPress website for SEO and brings everything into one easy-to-manage plugin that is also lightweight.
With Rank Math, you can manage the on-page SEO of your posts, pages, products, or other taxonomies. You can also control noindex/nofollow/noarchive meta tags of all taxonomies in general and individual posts or pages.
It tightly integrates with Google Search Console to bring you essential information right inside your WordPress admin dashboard. Information like what keywords you are ranking for, how many search impression your website is getting, what errors Google sees on your site, etc., is available in one glance.
Apart from that, Rank Math comes with an inbuilt 404 Monitor, Redirections, Rich Snippets, Local SEO, XML Sitemaps, Automated Image SEO, Internal Link Building recommendations, etc.
Features That Make Rank Math a Great Choice:
It is a one-stop shop for all your SEO needs.
Each post/page/product runs through an SEO Analysis tool based on 40 factors.
The user interface is very clean, and the options are easy to understand.
It gives you options to add alt or title tags to images missing them automatically.
Rank Math has a 404 monitor to tell you where users see errors.
It also comes with a Redirection module that lets you point those 404 errors to something a little more useful on your website.
XML Sitemap module comes bundled with Rank Math, and the plugin also pings search engines automatically once you make any changes to your posts.
Rich Snippets support is included with an option to choose from 6 different snippets like Article, Product, Recipes, Events, Video, Local Business, etc.
Breadcrumbs are also part of the plugin, so you don't have to rely on another plugin for that.
Open Graph and Twitter Card support is bundled.
---
5. SEO Squirrly
SEO Squirrly is marketed for people who aren't SEO experts. It lives up to that claim by offering a complete SEO suite without complicated elements. SEO Squirrly generates SEO recommendations differently than the other plugins we've already outlined. You start by typing in your article topic. The desired keyword is also punched in so that when you continue writing your content, a series of green lights is activated in real-time. It's almost like you have an expert whispering into your ear as you're writing.
Features That Make SEO Squirrly a Great Choice:
The keyword optimization is done as you're writing the article. This is a little easier than Yoast, where you often have to save the article to see suggestions and results.
If you plan on replacing an old SEO plugin for WordPress with Squirrly, it still keeps all of your settings from the previous setup.
There's a tool that analyzes your competition to see how you can outrank it.
Squirrly includes content reports, which you can send to other people in your organization. For example, a writer might need to learn more about SEO, so you might send it to them after writing an article.
You receive progress monitoring weekly, along with a solid tool that shows recent tweets about your topics. This provides both inspiration and ways to improve your content.
---
6. Broken Link Checker
SEO isn't only about filling your pages and posts with a significant number of keywords. It's also not only about making your content readable. One way to make your way past the competition is to go through your site to remove any broken links. When Google sees a broken link (aka a link that leads to a 404 page), it sees this as a less than desirable user experience. After all, your customers have no interest in landing on an empty page.
The only problem is that it might take you hours or days to sift through all your content to locate every broken link. Enter the Broken Link Checker.
This gem does the dirty work for you by scanning through your blog posts and pages. All broken links are revealed within a few minutes. The list is populated with the links in question, so you can go and remove them completely or change them to better references. If you keep the plugin active, it continues to search your site and notify you when a link breaks.
After the links have been corrected, the list will be empty, and Google sees that you maintain your site quite well.
Important: Due to the constant scanning functionality of this plugin, we recommend enabling it, going through and fixing your links in batches, and then disabling it again. This will ensure it doesn't impact the performance of your site. 🚀
Features That Make Broken Link Checker a Great Choice:
You don't even have to go to the post or page to change the broken link. All link modifications are done through the plugin's primary page.
The WordPress SEO plugin has an option for searching and filtering links.
It's not only for finding broken links in posts and pages. The plugin monitors comments, custom fields, and more.
Missing images and redirects are also detected–basically, anything that might confuse a reader and make Google look less favorably on your website.
There's an optional feature for preventing search engines from following the broken links on your site.
---
7. Rel NoFollow Checkbox
When linking to other pages and websites, it's important to realize that those links mean something to Google. The search engine wants to know the quality of those links and the quality of the links going back to your site. The reason for this is that if you have hundreds of links leading to spammy sites, Google sees this as manipulative and unhelpful to users. This plugin is perfect for those of you with affiliate links.
One way to ensure your links aren't hurting your rankings is to add "rel nofollow" attributes to all external links. This way, the link doesn't influence the ranking of the external site. In short, it scares away advertisers who value those links for rankings.
Unfortunately, it's a pain in the butt to go in and add "rel nofollow" tags to all links in your content. However, the Rel NoFollow Checkbox plugin provides an extra checkbox to mark when creating links in WordPress.
Below the "Open a link in a new window/tab" checkbox, you'll also find a "rel nofollow" option, which cuts down on the time you would have to spend working through the HTML.
Features That Make Rel Nofollow Checkbox a Great Choice:
It's lightweight, so your site remains speedy.
You have the opportunity to boost your SEO without spending an extraordinary amount of time sifting through HTML (to find your links and add a little bit of code).
It makes the process much easier for non-coders.
Perfect plugin for affiliate marketers
The installation doesn't take more than a minute or two, and there aren't any settings that need to be configured.
You can quickly go through guest posts or articles written by your writers to ensure that they aren't trying to market certain products or companies without your permission.
If you're an affiliate marketer, you might also want to check out a free link shortener plugin, such as Pretty Links, which can automatically add the nofollow attribute to your links.
---
8. All in One Schema Rich Snippets
Rich snippets are visual search elements such as star rankings, images, and other important details that might grab user attention by having something different from regular search results. Rich snippets are often used for eCommerce product page results and blog post reviews. Google enjoys rich snippets because they aren't all that intrusive yet still reveal valuable information to the user.
There's no built-in method for offering up rich snippets with WordPress, but the All in One Schema Rich Snippets plugin does the work for you.
Your search engine results are cut down to the most important elements with this plugin. In addition, users see everything from photos to star ratings to author avatars.
Features That Make All in One Schema Rich Snippets a Great Choice:
Google searches provide a more visual structure for the users. Google likes this and so do the users.
The plugin supports several types of content, including events, reviews, people, products, recipes, and videos. So, for instance, a recipe might have a star rating, the number of reviews, and a photo of the food.
Your search results are easier to share on Facebook, since the proper information is already compiled.
If you don't have reviews on your site and simply need a more lightweight plugin, we recommend checking out the free Schema plugin.
---
9. WordLift
WordLift is a WordPress plugin that uses AI to bring advanced SEO in the hands of content editors and marketers. This plugin helps you organize your content while automating structured data markup. On top of that, WordLift improves content findability by adding internal links, recommendation widgets, and semantic-rich metadata. Plans start at €59 per month ($65/month).

By taking advantage of this plugin, you could also start translating your articles and pages into machine-friendly content that search crawlers, chatbots, and personal digital assistants — like Google Assistant, Siri, and Alexa — can use and understand your organic traffic.
Features That Make WordLift a Great Choice:
Uses natural language processing and knowledge graphs for automating structured linked data markup.
Adds WooRank's technology to help you track the performance of your content and provides relevant advice on how to optimize your website.
Integrates with Google Analytics.
Some users of this plugin are Airbnb, Amazon Audible, Greenpeace, Merck Group, and TheNextWeb.
---
10. Redirection
Redirections are an essential part of modern SEO. If you want to redirect users from a page that no longer exists to another URL, you'll need to implement a 301 redirect. With a 301 redirect, you can let search engines know that they should pay attention to the new URL and discard the former one.

Redirection enables you to implement 301 redirects using a simple URL manager. Without the plugin, implementing redirects is a convoluted affair that requires you to modify the .htaccess file and add manual entries for each new redirection.
The plugin also includes a system that enables setting up "conditional" redirects. This means you can implement redirects that depend on the user's login status, what browser they're using, their IP address, and other conditions. The best part of this conditional system is that it is simple to set up automatic redirects for 404 pages.
Features That Make Redirection a Great Choice:
Redirection makes it easy to set up 301 redirects versus adding them manually.
The plugin includes a conditional redirection system that supports parameters such as login status, page type, IP address, and more.
It logs every redirect that occurs on your website.
You can track 404 errors in WordPress.
You can also change your website's permalink structure.
---
11. Slim SEO
Most WordPress SEO plugins offer you so many settings and options that learning how to use them can be challenging. That's not necessarily a bad thing, but depending on your style, you might prefer to use a tool that doesn't require you to spend too much time configuring it.

Slim SEO's primary selling point is that it enables you to automatically generate meta tags and sitemaps, add schema markup, and create redirects. The plugin also helps you set up Open Graph meta tags and configure how your content will appear on social media.
Moreover, you can use Slim SEO to add custom code to your header and footer. This is perfect for integrating solutions such as Google Analytics or other types of tracking code.
Compared to plugins such as Yoast SEO or Rankmath, Slim SEO lacks on-page analysis functionality. However, this plugin is a worthwhile option if you're comfortable running optimizations without a cheat sheet.
Features That Make Slim SEO a Great Choice:
Slim SEO can automatically generate meta tags, sitemaps, and add schema markup to your posts and pages.
You can use the plugin to set up redirects for author pages.
The plugin enables you to modify your content when users share it on social media.
It is effortless to configure, and its default settings should be perfect for most users.
---
12. Internal Link Juicer
As you may know, internal links are one of the most critical elements of great SEO. The better your internal linking strategy is, the easier it is for users to find more content within your site and the more time they'll spend browsing around. The problem is, as your content library grows, figuring out what posts to link to can become a challenge. This is where Internal Link Juicer comes in.

This plugin enables you to set anchor keywords for each post, and it automatically adds links to related internal content. You can configure how many links the plugin adds to each post and block content, so it doesn't get linked to. Moreover, you get access to statistics concerning those internal hyperlinks.
The best way to use Internal Link Juicer is to let the plugin work its magic on your posts and then go over them to see if you can identify any additional linking opportunities. As good as the plugin is, it's still no match for in-depth expertise of your content, but it will save you time.
Features That Make Internal Link Juicer a Great Choice:
Set anchor text keywords for each post in your library
Enable the plugin to automatically add internal links to each post based on the keywords you set
Configure the number of links the plugin can add to each post and what content it can and shouldn't link to
Get access to reports about your internal links
---
13. XML Sitemaps
Many all-in-one WordPress SEO plugins will automatically create XML sitemaps for your website. However, suppose you're not planning on using one of those tools, and you're capable of optimizing your content without any help. In that case, you can still benefit from a plugin that takes care of generating a sitemap.

The XML Sitemaps plugin is plug-and-play. Once you activate the plugin, you can configure whether it notifies search engines about each update to your website. You also have the option to create a sitemap in HTML format.
Aside from those basic settings, the plugin will automatically generate a complete sitemap for your website. You may still want to submit that sitemap to search engine webmaster tools such as Google Webmaster Tools, but that part of the job is up to you.
Features That Make XML Sitemaps a Great Choice:
It automatically generates XML sitemaps for your website.
It notifies search engines about updates to your website.
It adds your sitemaps URL to the robots.txt file.
---
14. Schema & Structured Data for WP & AMP
Schema markup can transform how your content appears on Search Engine Results Pages (SERPs). If you've ever seen search results with images, ratings, and product prices, all on top of regular meta descriptions, those are rich snippets in action.
For rich snippets to appear, you'll need to add schema markup to your content. However, there are dozens of schema types, each with a unique purpose. Schema & Structured Data for WP & AMP helps you select and add the right schema for every type of content:
The plugin includes a feature that can automatically detect what type of content it's dealing with and assign the proper schema. However, you can also choose manually from over 35 schema types, including blog posts, news articles, recipes, product pages, and more.
You can configure Schema and Structured Data for WP & AMP to exclude specific types of content and not assign schema markup to them. The plugin also enables you to import data from other schema markup tools, so you can pick up and switch to it without needing to redo schema for your entire website.
Features That Make Schema & Structured Data for WP & AMP a Great Choice:
The plugin can automatically assign a schema to over 35 types of content.
You can manually select what schema markup to add to each post and page.
You can configure the plugin to exclude specific types of content from schema assignments.
You have the option to import data from other popular WordPress schema markup plugins.
---
Summary
SEO seems tedious and complicated when you don't have the right tools on your side. However, when you find the best WordPress plugins for SEO and spend some time learning how to use them, tasks like keyword planning, competitor analysis, and reporting will become a breeze.
This list covers quite a bit, but some companies have different SEO needs. So, here are our final recommendations based on our research of the best SEO plugins and tools for WordPress:
We utilize Yoast SEO, Ahrefs, and Accuranker daily here at WCS. If you have any questions on finding the best WordPress SEO plugins or tools, feel free to drop a comment in the section below!